• Enhanced Design
• Simple Installation
• Greater Sealing Reliability
Introducing
The 442C™ Cartridge
Split Mechanical Seal


442C™ Saves Plant
Three Million Gallons
of Water
• Loreum Ipsum bullet here
• Loreum Ipsum bullet here
Superior seal performance with the ease
of installation of a cartridge split
Simple and Reliable Sealing Solution

The Chesterton® 442C™ Cartridge Split Mechanical Seal is the latest innovation in split seal technology, combining superior seal performance with the ease of installation of a cartridge split seal. Our patented split seal technology addresses the inherent limitations found in conventional cartridge split seal designs, minimizing installation complications and excessive leakage. The 442C design also offers the greatest installation flexibility with its short axial length and flexible gland positioning. Custom gland design requirements to fit your equipment are minimized/reduced.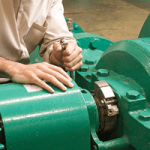 Easy Installation
Enhanced design for simple installation and greater sealing reliability.

Interlocking Face
V-grooves ensure positive automatic alignment of faces during assembly.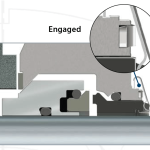 Automatic Self-Aligning
The final alignment of the faces is done automatically as the gland bolts are tightened. The faces align themselves and do not have to be handled or worked.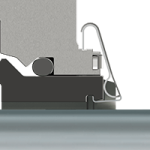 Spring Lifter 
Releases the stationary face halves during assembly of the gland, automatically energizing the springs when the gland halves come together.
Learn More: Visit the Chesterton Rotating Equipment Website